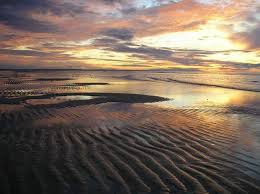 This will be the first blog post in a new series I'm doing about beaches to visit in New England. I love the beach, it's definitely my happy place. I don't get to visit nearly as much as I'd like. I always thought I'd have a beach house by now, but that's life.
I'm making a plan to myself to visit as many beaches as I can this summer. I feel happier just saying that. My goal is to go once a week and get my fix. My jewelry is inspired mostly by the beach. It's all about the relaxed vibe and casual fun, that to me screams the beach. My stretch bracelets pair perfectly w/ any beach, simple to put on, effortlessly stylish and just plain fun.
Today's beach is one of my all time favorite beaches Mayflower Beach in Dennis, Ma. The perfect effortless vibe for the day at the beach.
I mean the gorgeous white sand alone is spectacular, am I right? Happiness awaits.
It really has something for everyone, when the tide is out, there's plenty of sand to play in the tide pools for younger kids, play wiffle ball or bocce if you a teen, long walks along the beach, shell hunting, etc...
It has bathrooms and a snack shack, plus endless sand to find the perfect spot to relax the day away. The water is clean and warm in the summer. ( I love the north shore beaches too, but man that water is biting ) Because it's on the bay side, there are no seals, and therefore no sharks. As a mom, it's great to know my kids could play in the water ( and me too ) without that danger. 
But for me, the #1 thing that makes Mayflower such a perfect all around beach, is the sunsets. IYKYK. 
I mean, come on, who wouldn't love sitting on the beach w/ a nice cocktail in your hand enjoying these views of the sunset. These pics got me feeling more chill already. 
I don't know about you, but I'm already making my beach list for the summer! School is out next Thursday, beach here we come. 
Stay tuned for the next installment, which beach will it be?