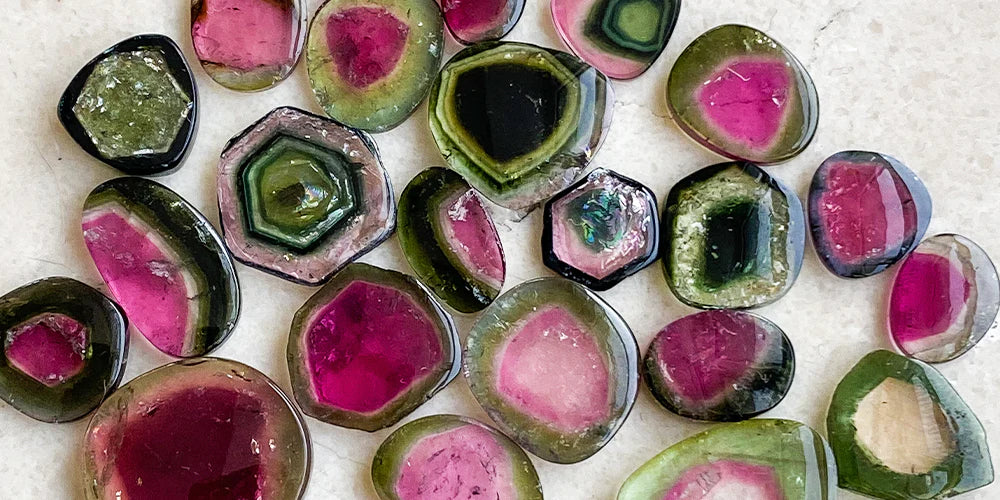 Highlight: Tourmaline, October's Newer Birthstone.
If you've been around here at all, you know how much I love October! My husband and I were married in Oct, the weather in Oct is almost perfect, and of course, last but never least is Halloween. The best holiday ever. If I could keep halloween decorations up all year long as my "home decor" I absolutely would. Tourmaline is October's newer birthstone, let's talk about it.
If you were born in October, you're lucky enough to have two birthstones to choose from, and they're both fabulous, Opal and Tourmaline. Opal was designated first, but some thought it was too feminine and not durable for daily wear. Enter Tourmaline, the prettiest stone around IMO.
Egyptian legend states that when Tourmaline was being formed, it passed over a rainbow as it made it's way from center Earth, which is why it's so colorful. The term Tourmaline comes from the Sinhalese ( official language of Sri Lanka ) word "tura mali" meaning "a stone with mixed colors" Also being dichroic, Tourmaline has the ability to to subtly shift it's color depending on the light source.
It's an emotional grounding stone that pairs perfectly with October's vibe. The weather is cozy, chilly mornings, gorgeous warm sunshine during the day and crisp fresh air at night that shouts "I'm comfortable, wear whatever you want to, let your style shine" Ok, maybe that's just what I say in Oct. 
Tourmaline is all about simple understated elegance. It can be whatever you want it to be. It elevates any outfit, but it's effortless charm makes it the go to stone for any minimalist out there.  With it's colors ranging from black to blue to green, yellow, light pink to dark pink and really all the colors in between. It takes even the simplest outfit to another level. Let Tourmaline narrate your style story, your way.
Wear it if you want to dispel negative energy into positive vibes. Wearing it daily helps you navigate all the little ups and downs of life. Let's face it, life can be chaotic. It promotes self confidence and a better understanding of oneself. October is a great month to think about what you want, Tourmaline radiates energy that attracts money, healing and friendships. So put your Tourmaline jewelry on, it has the power to give you strength when you need it. Then go after your dreams and what you desire.
Because Tourmaline is so effortlessly stylish and strikingly pretty, you can pair it with absolutely any outfit and you're good to go. But here are some simple style ideas to think about.
1. A Crisp White Shirt
Add some sparkle to your work day, night out or wherever you want. Choose a Tourmaline necklace to make that white shirt pop. It's eye catching bold colors tell your story in the most playful way.
2. Colorful Dress
For a more playful look, wear a colorful maxi dress and match your earrings to one color in the dress. You'll create a simple but chic look.
3. Boho Babe
Heading to a festival or just love the free spirited vibe of a boho babe? Wear an easy everyday Tourmaline stretch bracelet to a printed skirt and jean jacket.
New Tourmaline stretch bracelet coming soon! 
4. Casual Everyday Look
Enhance any look with Tourmaline jewelry. No matter what your style or wearing, Tourmaline jewelry is the perfect accessory for you. This grounding, compassionate stone helps balance you in all the right ways. 
So if you're an October baby or just someone who loves Tourmaline, there's an everyday effortless piece of Tourmaline jewelry out there just waiting to be worn. Simplicity at it's best, add some happiness into your everyday life. Happiness is not a destination, it's a journey. What better way to enjoy the ride than with a touch of Tourmaline.