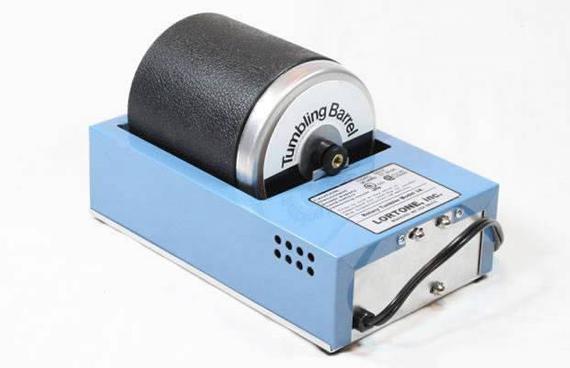 What the heck is a tumbler?
Have you ever wondered how some silver is so much shinier and sturdier than other silver pieces? Well read this and you'll know. True Happiness Designs uses a tumbler for every silver piece of jewelry I make. I definitely prefer the finish it creates, as well as hardens the piece to retain it's shape.
I'm sure you might be thinking that, if you don't know already. Some jewelers use tumblers to clean, polish and harden their jewelry pieces. To do them by hand is very tedious. You can only polish one piece at at time and it's hard on your hands. So jewelry designers who also sell their work as more than a hobby, use them to batch their work for time saving reasons as well as a prettier finish. You should not put any stones or pearls in the tumbler, they can get scratched.
There are two types of tumblers, vibratory and rotary. 
A vibratory tumbler is larger, noisier and is used for a higher capacity of jewelry. They can be wet or dry and also more expensive than a rotary one.
I prefer a rotary one for the quieter factor mostly. I work out of my house and it doesn't disrupt my family as much. Most of them look similar to the picture here. They have a barrel that rotates to clean, harden and polish your pieces. I use stainless steel shot (which is small pieces of stainless steel in multiple shapes) add water and a cleansing agent. Some people use Dawn or regular soap, but I like Jet Dry myself. It gives my pieces a mirror like finish, which I love. I create all of my components by hand, my clasps, ear wires and my pendants and hammer them, because I like that look. Then they go into the barrel, you just turn it on and let it work it's magic for as long as you like. I usually keep it on for about an hour or two. While the pieces are rotating around, the shot gets into all of the nooks and crannies for a high quality finish by creating friction between the pieces of silver and the shot. All the metal pieces rub together to smooth out any rough edges too.
As you can see from these heart pendants I created, the top three have already been polished in a tumbler and the bottom ones haven't. Some people might like the dull ones, but I much prefer the brighter, shinier top ones. Here's the finished necklace using the heart above. I am in the middle of an order of 10 of these necklaces for christmas gifts. 
Thanks for listening!